About All-Star Locations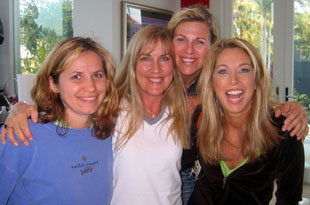 Liz, Lisa Collomb Gandolfo, Lena, Denise Austin
Lisa Collomb Gandolfo, All-Star Locations President and Owner, launched the company in 1998. Prior to starting All-Star Locations, she worked as a Leather Clothing Designer in New York City and also in the Film Industry as a Costume Designer, Wardrobe Stylist, and Set Decorator for 15 years.
Missing her family and South Florida's sun, she returned home from NYC to continue her career in the film industry. The locations service was a natural choice for this born and raised native of West Palm Beach with extensive local knowledge.
Friends on the Palm Beach polo circuit provided early leads for quality locations to scout. Since then, Lisa Collomb Gandolfo has scouted a vast territory, from Vero Beach to Key West. Eight years later, All-Star Locations maintains a library of thousands of locations ranging from large private estates to small cottages, to horse & dairy farms to large equestrian ranches.
All-Star Locations is constantly growing. Current expansion into Georgia and North Carolina had included scouting trips, and internationally to seek out locations in Italy, where her better half's roots are. "We own a house over there and every summer I go out to scout new countryside homes in Sicily and Italy", says Lisa.
All-Star Locations welcomes the opportunity to share and book many more beautiful and exotic locations for your company in the near future.